Blogs
All about beautiful living
Top 7 Factors that Make Gems City the Most Alluring Real Estate Project in South Kolkata
22 June, 2022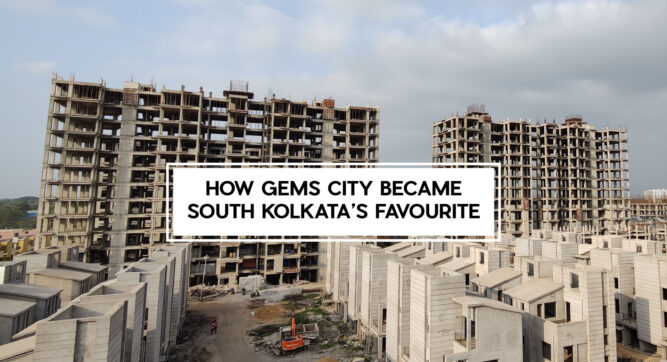 The craving of home buyers and real estate investors for Gems City has been sprouting ever since its inception. Today, people browsing the best flats in South Kolkata, bump into the beautiful living of 50 acres and make it their ultimate choice. People in search of a pleasant home away from the hustle and bustle of the noisy city find their new abode amidst the lush green nature.
With all the amenities and conveniences of modern living, Gems City has 50 reasons to be the most in-demand real estate project in South Kolkata, let alone Joka. Here is a list of the most eye-catching amenities or features of Gems City that makes it so popular:
Lush greenery with 65% open space
Perhaps the most enjoyable feature of Gems City is that it gives a feeling of being close to nature. Home buyers who seek serenity away from the unrestrained noise of the city find paradise in Gems City. The beautifully decorated gardens and the well-maintained lawns make it a heaven for nature lovers. People of all age groups get access to multiple playgrounds, parks, party lawns with barbecue places and a lot more. The residents love the freshness of greenery that fills the entire urban community of Gems City.
Large banquet halls with guest rooms
Gems City offers its residents Air-conditioned banquet halls where they can celebrate their special occasions with no hesitation. All they need to do is to pre-inform the office staff so their slot gets booked for an event. As a result, the residents do not need to face hassle while booking the halls for special events like birthdays, wedding anniversaries, grand get-togethers etc. Not just the beautiful community halls, Gems City also has a guest house where your guest can experience a comfortable stay.
Swimming pool with toddler's splash pool
You need not book a resort in order to enter a swimming pool – all thanks to Gems City. Here you can access the pool at any time of any day. Enjoy some cool time along with your friends, neighbours and family during hot summers. So, why crave for a pond when you get access to such a beautiful pool for swimming in Gems City. Even your little ones enjoy their time in the cool waters of the toddler's splash pool.
AC multi gym with steam room
For people who consider fitness above all, Gems City has an air-conditioned multi-facility gym, and a steam room. Start your morning with some good exercises in the gym and be active for the rest of the day. This gym has all the required equipment that can help to achieve your fitness goals. Dieticians and trainers will be at the service of the residents so that you never miss out on any fitness tip.
Cafeteria and family restaurant
To have a perfect adda time, the cafeteria and restaurant of Gems City can be the best place around. While residing in Gems City, you do not require taking your family very far so often just to have a good dinner or lunch time together. Even your friends can join you over some nice supper. As a result, you need not have a prior plan for dining out; you may decide at the last moment and have some good food with your close ones.
Library
People nowadays want to get rid of their digital screen addiction. Undoubtedly, having a library makes it easier. Gems City's library has a range of books suitable for all age groups. The various books on several subjects keep you and your children engaged and away from the digital world. As a result, you get to learn new topics and your eyes remain unglued to the electronic screens. So, what are you waiting for? Take a cup of tea/coffee and enjoy your read in the library of Gems City.
Opal – the premium lifestyle club
"Make beautiful memories in a beautiful place.", is so well said by Sushmita Sen. In Gems City, you get to have a beautiful premium 40,000 sq. ft. clubhouse Enjoy your special moments in this clubhouse with your near and dear ones together. You get to socialise with your friends, family and neighbours so comfortably here. The most alluring feature of this Clubhouse is its open terrace zone from where you can enjoy a breath-taking view of the vast expanse and greenery of the project.
This is just a small list from the entire lot of facilities offered at the project. As mentioned earlier, Gems City has 50 reasons to be the most alluring gated community in South Kolkata. So, hurry up and book a site visit today!
Gems City offers you a variety of 2BHK and 3BHK apartments which you can decorate as per the best Vastu-friendly tips of your choice. So why wait? Enquire today for free!
You Might Like...
21 March, 2023

When it comes to buying your first home, you can never be too well prepared.more

24 February, 2023

Recovery of construction activity post Covid 19 is ensuring that the real...more