Blogs
All about beautiful living
The Key Factors that Make Gems City – The Most Ideal Gated Community in South Kolkata
18 March, 2022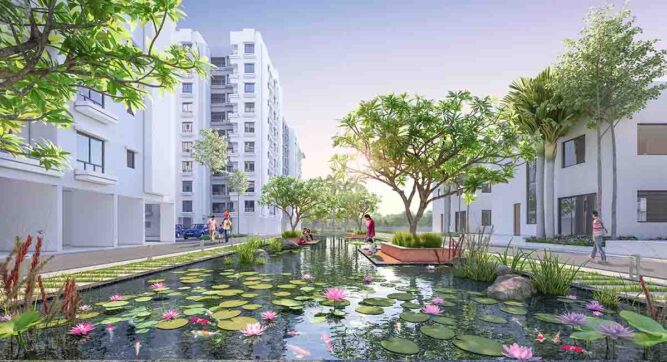 Your home is such an indispensable asset that sustains beyond your generation. It does more than just providing shelter to you and your family. Hence, you should always analyse the value of a property in terms of the benefits it bestows for a lifetime and even after that. But there is a lot of options that can really land you up in purchasing a 'high-price low-value apartment' in a city like Kolkata.
As a result, you must look at the elements that contribute to the goodwill of a community as one of the best in the city. Gems City is one of such gated communities in South Kolkata that provides beautiful living in all aspects. We can give you 50 reasons why life is beautiful at Gems City; first let's see the key elements that make it the most preferred gated community in South Kolkata:
Live close to nature
If you are fond of beautiful gardens, flower lawns, playing grounds and cycling tracks, Gems City has it all within an area of 50 acre land. It has lush green fields all around which are beautifully designed to enhance your living within the community. With 65% greenery in the project, it is considered as one of the most ideal communities in Kolkata that has over 2500 apartments and yet offers living close to nature.
International school next door
It is the only gated community in South Kolkata which has a renowned CISCE affiliated school within the campus. Gems Akademia is built within the vicinity of Gems City in an area of about 20-acre land which has classes from Nursery to Grade 12. Having your child's school right next to your home can save you and your young one from a lot of hassle. This is one of the main reasons why Gems City is on top of the list for people looking for apartments in South Kolkata.
Affordability
Gems City is the most affordable residential project in South Kolkata. This is the reason why all the Bungalows and 1BHK apartments are all sold out in a jiffy. Nonetheless, with all the necessary amenities and beyond, Gems City has a variety of 2BHK and 3BHK apartments still left to be booked. You get to choose as per your requirement among 2BHK apartments starting at just 25 lac and 3BHk apartments starting at only 30 lac (as of March 2022.)
Child-friendly gated community
If you want to give your young one the best life in a beautiful environment, Gems City is just the community they need. It is not just the in-campus school we have already mentioned above, Gems City has more than you can imagine to shape up the lives of youngsters in the best ways possible. It has all elements like a crèche for your baby, indoor and outdoor gaming facilities for the youngsters, children parks, sports grounds, cycling tracks and many more to keep your children occupied. Your child will be accompanied by other children in the community and live close to their schoolmates which can be really beneficial for their physical and mental development.
Ideal location
It is so nicely located in Joka that you remain connected to the city yet remain away from the hustle and bustle of the crowd and traffic. You do not always need your car to travel to the heart of the city as there is a bus service available exclusively for its residents and their guests. Located close to the Joka metro station, Gems City is such a community that helps you to reach even Tollygunge metro station without availing any public transport.
24/7 healthcare facilities
Adding up to its ideal location, Gems City has various hospitals and medical institutions within its vicinity. You can check here the major medical hospitals in South Kolkata that are close to the gated community. Emergency health situations can arise at any point of time. By keeping this in mind, Gems City has the facility of on-call doctors available 24/7 for its residents. Moreover, there is a facility of an in-house dietician as well.
Easy livelihood
Gems City is such a beautiful gated community that has all the key elements that ease your daily living. Besides having the in-campus school, it has a bank along with ATMs, multiple convenience stores, 24-hour filtered water supply, laundry service, in-house plumbers, electricians, carpenters at your service in Gems City.
The Opal clubhouse
Gems City is one of its kind when it comes to its 40,000 sq. ft. Opal clubhouse. You get to enjoy a premium lifestyle with your friends and family by acquiring an affordable apartment within the community. The club has some tempting facilities such as:
• AC banquet and community halls
• Library
• Swimming pool with toddler's splash pool
• AC multi gym with steam room
• Yoga meditation room
• Family restaurant and cafeteria
• Bar cum restaurant
• AC community theatre
• Party lawn with barbeque area
• Open terrace
• Guest rooms
• Creche
• Indoor game rooms with pool and snooker tables
• Tennis and badminton courts
Wrapping up
Gems City has an endless list of features that make it one of the most valuable and in-demand residential projects in South Kolkata. If you are all set to give your family an affordable yet premium lifestyle then wait no longer and enquire to know more about the project.
You Might Like...
21 March, 2023

When it comes to buying your first home, you can never be too well prepared.more

24 February, 2023

Recovery of construction activity post Covid 19 is ensuring that the real...more