Blogs
All about beautiful living
Gems City Offers the Best Child-friendly Community Living in South Kolkata
22 June, 2021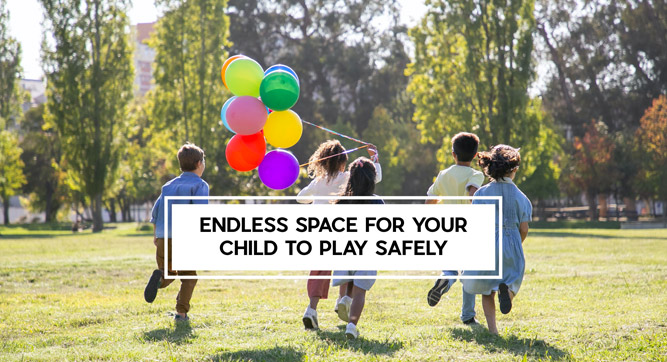 Gems City is among the top gated communities in India that provide an ideal environment for your child's mental and physical growth. With endless amenities that cater to the development needs of your children, Gems City has all the blends of being the best child-friendly community in South Kolkata.
Childhood is the primary stage of everyone's life for personality development. This is why every parent ensures to offer their young ones a happy and pleasant childhood experience. Keeping in mind all the necessary ingredients that shape up an amiable upbringing of your children, Gems City has it all from safety features to large playgrounds.
From toddlers to teenagers, Gems City has a list of varied amenities that your kids will love. Let us have a look at the reasons why Gems City has gained popularity among Indian homebuyers as one of the finest child-friendly gated community:
Safe and secured living
A child's safety is the utmost priority of its parents. The privilege of safe and secured living can be achieved by choosing to live in a gated community like Gems City than independent houses. It offers basic to advanced security features like 24X7 CCTV surveillance, round-the-clock security personnel and safe kids' play areas. Without the need of leaving the housing complex, children can play carefree in enclosed game zones that are exclusively made for their amusement. Also, it ushers confidence within the parents along with their children to grow and live in a community that is safely secured with many friendly neighbours around. Gems City also offers additional security services like 24X7 on-call security guards and no entry for any unidentified visitor within the premises. Moreover, no child can be taken outside the premises by any visitor without the permission of their parent.
School and coaching next door
Living in a community with a school and tuition facility within the community itself at the most affordable budget is like a dream come true for parents along with their children. Although online classes are being conducted during the pandemic, this will not continue for a lifetime. For this reason, staying in close reach of a renowned international school with supreme infrastructure is very much preferable. Children living in Gems City can have access to a hassle-free education system without the worry of daily transport. Gems Akademia International School is an English medium school affiliated to Council for the Indian School Certificate Examinations (CISCE), New Delhi, is built on a 20-acre campus. It has classes from Nursery to 12th. Besides, its students get in-house coaching which is yet another added advantage to the residents of Gems City.
Kids-friendly amenities
The beautiful 50-acre project of Gems City has a lot to offer to every age group. However, kids along with their parents love the breath-taking and useful amenities that help to raise kids with ease. The most important and popular kid-friendly amenities offered by Gems City are:
Multiple children's parks within the community to experience spending evenings outdoors
Toddler splash pool to have a great experience in water during hot summers
Indoor games room for your kids to enjoy a variety of board and table games with their friends
Outdoor playgrounds to enjoy games like cricket, football and many more
Exclusive cycling tracks to have safe cycling for kids within the gated community
Exclusive open play area for children
CISCE affiliated school and tuition facility from Nursery to Class XII
Open central lawn in each block of the gated community
Spacious outdoor area
Unlike the most congested areas in the city, Gems City offers a huge open space area for your kids to enjoy. The 50-acre residential project of Gems City has 65% open space with greenery. Such a huge open space is rare to find in a metropolitan city like Kolkata. Health experts advise growing kids to spend more time outdoors and have more outdoor activities. It ensures physical as well as mental development among children. Playing outdoor games can also strengthen their muscles and bones, build immunity, and lower the risk of many diseases like diabetes, heart problems, and obesity. Being in the fresh air and sunshine can naturally provide them with Vitamin D. Being exposed to electronic gadgets for a longer duration can impair the vision of children. On the other hand, outdoor play can improve their eyesight.
Hence, live in Gems City to offer your children a wonderful life that they can cherish for the rest of their lives.
You Might Like...
25 January, 2023

On 30th December 2022, residents of the southern part of the citymore

12 January, 2023

On 30th December 2022, residents of the southern part of the citymore