Blogs
All about beautiful living
Guide to Declutter Your Home to Bring in Good Vibes
21 February, 2022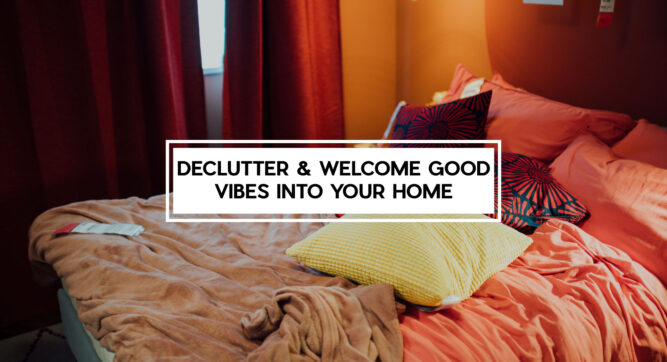 Your home is the ultimate place where you can crash off after a tiresome day, spend time with your family, enjoy some time alone and a lot more. But all of these happen peacefully only when there are good vibes indoors.
Many of us feel discomfort and unstable at home. Things that are required urgently go missing out of nowhere. This is mainly due to the disorganized rooms and the mess around which make your home look wild and give all kinds of headaches.
In order to avoid such a situation, you need to organize your house to make it a home that creates good vibes. Here is a simple guide to organize and declutter your home with some easy-to-do steps:
Arrange all the tools required
Arrange all the tools required
It is as they say, 'keep your weapons intact before the war begins'. Once you get your hands into the cleanup process, it is difficult to go for the tools required to accomplish your task. Hence, arrange all the required cleanup weapons like a broom, dustpan, garbage bags, glass and floor cleaner, duster and so on. By looking at the mess around, you would be the best person to know what tools you would require to reshape your home.
Give it an easy start
When you already have a mess around, the first move to start the cleanup is probably the hardest step moving forward. Hence, give it a simple start by picking up a corner at home that is easy to organize and can be managed quickly. After you are done, you start to gain momentum as you get accustomed to the house decluttering process.
Get rid of the unwanted stuff
Once you start organizing your rooms, you will bump into a lot of things or furniture that are unwanted or even obsolete. You may collect such items at one corner to dump them all at once. But, if the list of unwanted items is too long to handle at once, you can get rid of those part by part. For an instance, spend a weekend in a month to get rid of the old newspapers. This will not only clean up the mess but also control bugs and insects like cockroaches at home. Then, get rid of the furniture items that hinder easy movement indoors.
Donate clothes you never wear
We often miss to get rid of our old clothes and keep them cluttered at home which makes over 60% of the mess at home. For this reason, get rid of unwanted clothes by donating them to the people in need. There are several NGOs that take old clothes and give them to the poor who cannot even afford clothes during harsh winters. As a result, your house gets declutterd with a noble cause behind.
Segregate the items as per usage
Collect all the unwanted items together in one place so that it becomes easier for you to segregate them as per the requirement. Make 3 divisions in your notebook to divide the items into 3 categories; things to be thrown away, things to be donated and things to be kept in their actual place. This list gives you a clear idea of things to be done and makes your work a lot easier. You may now easily get rid of the unwanted items, donate items like clothes and shoes to the poor and also manage to keep the necessary items in their proper place.
Get some help
If you live in a 3BHK apartment or even in a bigger house, you would definitely require some extra hands. Call for some domestic helpers or cleaners who would be happy to help you get the mess cleaned up for you. Some of you may be lucky enough to have helpful roommates or family members who would love to help you in the process.
Now that you have accomplished the entire decluttering process, take a look at your home as a first visitor. If you had kept a picture before the cleaning was done, by now it has become difficult to recognize your own house. Sit back, relax and enjoy the good vibes that fill your home with happiness and prosperity.
You Might Like...
21 March, 2023

When it comes to buying your first home, you can never be too well prepared.more

24 February, 2023

Recovery of construction activity post Covid 19 is ensuring that the real...more