Blogs
All about beautiful living
Dining Room Ideas for Optimal Living | Gems City
26 July, 2021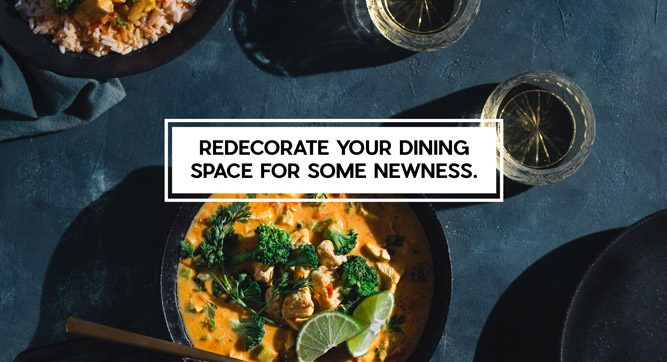 Peaceful and happy living starts at the place where you eat with your family – the dining room. In fact, the best conversations occur by clustering with your close ones around the table. So, keeping the place clean and beautiful brings good vibes at home. It does not matter how big or small your dining space is, if you know the right design hacks, you can easily reshape your dreamy dining area.
Whether you have a dedicated dining room or simply a corner of your living room or kitchen, there are a surprising number of inexpensive and simple ways to make the area appear larger and more charming. The best part is that you don't have to spend weeks attempting to put these in place; instead, you can do it within a weekend.
Are you planning to give the makeover that your dining room truly deserves? Then you are at the right place where we have some unerring ideas to transform your dining room with some simple yet effective dining area ideas.
Get rid of the unnecessary clutter
Before making any area beautiful, we first need to get rid of the dirt and unsolicited elements from the space. Things need to be arranged neatly in an orderly manner. Items of frequent use should be kept away hidden in cabinets or in the storage room. For an instance, one can easily arrange crockery and fancy utensils in a cabinet placed in the dining area beautifully. To keep the dining room airy and spacious, the decorations must be kept in minimal order.
Place the dining table right by the window
Set up your dining area right by the window if there is an in-built sitting area by the window side, one can easily replace it with a few chairs. A good window setting view can be absolutely for a weekend party or a romantic date with your loved one. Besides, the view from your dining table can really make your morning meals feel special. Who does not want to wake up to a morning with a cup of tea and enjoy the view from your dining space window?
a school and tuition facility within the community
Use a round-shaped table
A large centrepiece dining table that can accommodate 6-8 people is always welcome. A huge dining table gives a grand look while living in a bungalow or a large apartment. In the case of compact houses, a stylish round table is most ideal. This makes it look more spacious and less congested. Furthermore, you may enhance this look by using a chic-square shaped rug on the floor as per the square feet area.
Select a wall in your dining area for a flawless display
Most people are lucky to have a spacious large dining room when they are living in an apartment. However, the lifestyle cannot be compromised if someone does not have a spacious dining room. The old tradition of placing tables and chairs right at the centre of the room can be easily modified by moving the dining table closer to an empty wall to gather plenty of space for the room.
Open-design plan for your dining area
An open-plan dining room is a practical idea to be tried at home. Small spaces can easily accommodate open-plan dining in a little modish way. Many homeowners these days are now opting for an open-kitchen layout to bridge the barrier between the dining and the kitchen. Just by placing a few chairs or a wooden bench, one can convert a kitchen island into a dining area. This not only gives openness but also ambient space for friends and family to dine together.
Use drop-leaf tables
Drop-leaf tables have their own multi-functional nature. Any unused hallway in a home can be converted into a dining area by using innovative drop-leaf designs available in the market these days. They can be extended as required and one can also find wall mounted fold out desks with folding chairs that do not occupy space. It adds both amazing and stylish features since when not in use it can be folded as a beautiful wallpaper.
In-built seating arrangement
Introducing a couch or banquet seating can be worth considering at your dining space. A cosy banquet style seating at any extended corner of a living room or kitchen enhances aesthetics and increases the comfort level. It can be easily coupled with a square table and more personal touch can be added with a few wall photographs or artworks. One can also add some pillows and throws to make it look cosier. Additionally, one can use a matching large clock facing the dining table. However, there are ways by which you can place the clock in the proper manner for experiencing good times.
As a home buyer, these subjects are the top of your mind. Try to look for and imagine moments while buying a new home – whether it is a 2BHK flat or a 3BHK apartment. Once inside your home, you can create the kind of space you have always wanted.
You Might Like...
25 January, 2023

On 30th December 2022, residents of the southern part of the citymore

12 January, 2023

On 30th December 2022, residents of the southern part of the citymore