Blogs
All about beautiful living
Colours and Stairs – Two interesting design aspects in Gems City, Joka
22 November, 2022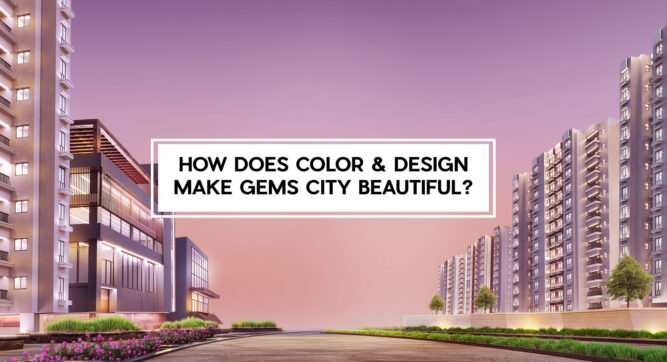 Situated on 50 acres of land with 65% greenery intact, Gems City near Joka metro station is a fully integrated upcoming residential project in south Kolkata. What makes this mini-township or gated community particularly interesting is the array of different residential types that will abound. Not just in numbers, but sheer variety of building constructions:
Over 2500+ Apartments / 300+ Bungalows / 25+ Towers / 59 High-end Apartments
In this blog we will be looking at two interesting design aspects related to buildings: one to do with the use of colour and the second to do with staircases within homes or occupying shared areas of residential buildings.
How Buildings Communicate Through Colour
Colour is a visual language which is understood by all. So when we try to communicate or transmit something through building design, there is no better way than doing it than with colours. But to communicate with colours, one needs to first understand how colour behaves, how it influences people and how it can affect their mood and temperament.
Dark Tones – Light Tones
Using darker shades make the same space look smaller. Hence colours can be used to adjust the proportion of a building space. A building environment can become under-stimulated or over-stimulated, depending on the colours used. An under-stimulated building environment features weak or monotonous colour contrasts and weak intensities of colours. On the other hand, an over-stimulated environment features colours which are highly saturated, strong contrasts or contain many intricate visual patterns.
Overall Atmosphere
Colours also impact the atmosphere of a building. One needs to correctly consider the kind of ambience before selecting the colours. For example, an office environment needs to be exciting and energizing; on the other hand a hotel/resort environment needs to be calming and relaxing.
How to Take Advantage of Stairs
Vertical circulation may be just one of the functions of a staircase. Always occupying a reasonable area, this element can serve to bring some other uses when it is thought of in a more integrated way with the entire room, providing living spaces, storage and also a greater aesthetic appeal. That is why we have gathered some ideas on how to occupy the areas around a staircase inside a home or residential building.
Seating
In public architecture, stairs demonstrate the movement of the body around the space, but they can also become a living space. Thinking of the maxim "see and be seen", a rest area or an audience can be realized by taking advantage of the stairs' design to bring a bench to the environment and generate a meeting place with multiple uses in the building.
Home Office
With work becoming more and more flexible, it's not always easy to create a place to focus at home. Taking advantage of the area under the stairs in a duplex or bungalow home can be an alternative, as it can bring a feeling of isolation from the surroundings and help you focus on what is necessary at work.
Designed Furniture
Taking advantage of levels between steps, the installation of hand-rails or guard-rails to usher in different uses is also a very welcome alternative. The possibilities are endless; and it is conceivable to create shelves, niches, benches, small libraries or even places to hang different objects all along a staircase.
Landscaping
To bring more green to the interiors, try utilising the area under the stairs, or hanging vases on their handrails. Do it throughout the space, including on the steps. Vertical gardens can look awesome. Biophillic designers are now available who specialise in the use of plants and natural earth substances in interior and exterior design. Everything can be an option. If this is your interest, be sure to view more references in subsequent blogs.
You Might Like...
25 January, 2023

On 30th December 2022, residents of the southern part of the citymore

12 January, 2023

On 30th December 2022, residents of the southern part of the citymore