Blogs
All about beautiful living
Home Decoration Ideas that Can Give Your Home a Complete Independence Day Makeover
22 July, 2022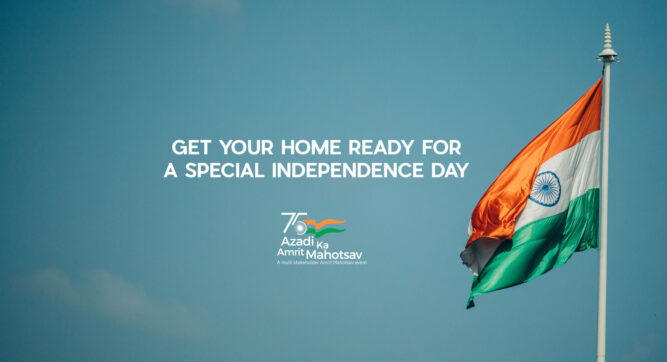 Celebrate patriotism by giving your home a new look this Independence Day. Every moment of independence we enjoy is given to us by our national freedom fighters who stood for the people of our country.
The Prime Minister has initiated a celebration titled 'Har ghar tiranga' where he has encouraged all citizens to decorate some aspect of their home with a flag at home and share the activity on social media, and government portals. So, on this 76th Independence Day of India, let's decorate our homes in honour of our great freedom fighters. Let us follow some easy DIY ideas to give our spaces at home a complete Independence Day makeover:
Independence Day decoration for your living room
A feeling of independence can be inculcated in the living room by showing some love and using some fantastic Independence Day balloon decoration ideas. To make the independence vibe, make use of green, orange and white colour balloons to signify the importance of our national flag. Make use of elegant white curtains, and a wooden panel floor with a beige-coloured wall to represent the look of independence all around. Using tri-coloured balloons and mini flags on the walls can enrich the look further.
Independence Day decoration for dining room
Dining in a room surrounded by our flag colours is mesmerizing. So why not make the dining area look gorgeous yet simple by showing love for our country effortlessly. A dining room with a six-seater dining table can be adorned by using plates, glasses, and napkins of tri-colour. Also, one can prepare a tri-colour salad to highlight the importance of independence. Additionally, placing a bowl of blueberries will emphasize the concept of Ashoka chakra and give you a patriotic dining experience.
Independence Day decoration ideas for your work cubicle
Certain people who work from home and have their offices at home can deck up their workstations by giving them an Independence Day look. Make the area look artistic by hanging down several canvases based on pictures related to our independence. A large picture showing freedom fighters fighting to hoist our national flag can give an elegant touch. Make use of pens in white, green and orange stand tall in a white pen stand. Place a single blue-coloured sofa at one corner of the table to represent a hint of blue shade in our national flag. You may use a blue sofa cover to give it the desired look.
Independence Day idea for bedroom
The bedroom is the only place in your house that finds you solace and freedom. Therefore, adding up Independence Day vibes further emphasizes the feeling of independence. This can be done with some respect and style by using curtains that represent the colours of our national flag. Also, a white ceramic vase can be filled with flowers to that of the tri-colour. A meaningful painting depicting what our country has to offer after independence can be an eye-catcher above the headboard. You can also make the decoration by including a stand with our flag and a tri-colour pillow for the desk chair. Also, the bed sheet and the pillow covers can be matched to the colour of the curtains to reinforce the essence of freedom.
Summing up
The pride of our country lies in the depth of the struggle for independence. It also ushers the sacrifices made by millions to make our country free from the foreign rule. Therefore, as citizens, we must be mentally, physically and socially patriotic on this very auspicious day. By the use of simple yet effective DIY techniques and the use of the colours on our national flag, we can bring that national pride to our residence.
You Might Like...
27 July, 2022

Worried about your home loan tenure? All you need to do is be a smart...more

27 June, 2022

Yoga must be a daily exercise for a healthy body and mindmore