Blogs
All about beautiful living
Kolkata gets New Year's gift: Joka – Taratola Metro begins service
12 January, 2023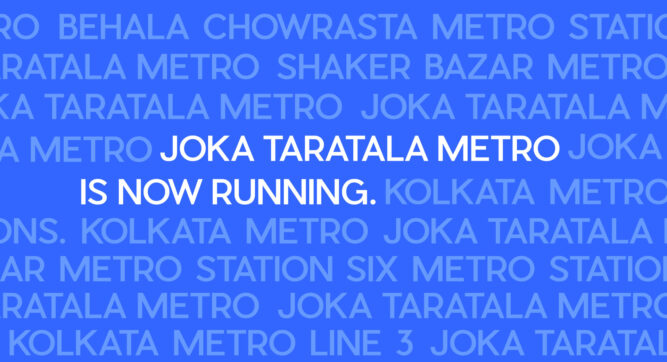 On 30th December 2022, residents of the southern part of the city, from near Gems City-Joka, Kolkata's most sought after upcoming residential project, all the way to Taratala woke up to some very good news!
Prime Minister Narendra Modi flagged off the Joka-Taratala stretch of Kolkata Metro's Purple Line, virtually, in the august presence of West Bengal Chief Minister Mamata Banerjee and Indian Railway Minister Ashwini Vaishnaw who were both present on ground in Kolkata.
After the inauguration, along with relevant VIPs and the Press were some students from schools along the route, like St Thomas Boys School-Kidderpore, and a few locals. Imagine their delight at being selected to script history as they savoured the rare opportunity to be the first ones to ride on this Joka-Taratala stretch!
Needless to say, on the following first Monday of the New Year, 2nd January 2023, citizens of the southern part of Kolkata, especially Joka and Behala – Sarsuna, Dakghar, Muchipara – as well as South 24-Parganas, received their unprecedented New Year gift! A rapid transport system that they had been waiting for, for over a decade, had begun its regular run!
Initially, in the absence of advanced communication-based train control (CBTC) signalling, the system will run on the one-train-only system – only one train will chug in and out of the tracks. Another will be on standby. New rakes will only start arriving from Chennai's ICF next year.
Though it shouldn't take more than 15-20 minutes to cover the 6.5 km distance from Joka to Taratala, including stops at the stations, the frequency of trains may be hourly. The first train from Joka may start at 10am and Taratala at 10.30am. The last train from Joka and Taratala could be at 5pm and 5.30pm, respectively. There may be a break in services from noon and the evening trains may start at 3pm from Joka and at 3.30pm from Taratala.
Earlier last month, the Ministry of Railways approved the fare structure on this route. The lowest fare for travelling on this route is Rs. 5 while the highest is Rs. 20.
The services are prioritised to cater to the rush during office hours. There will be no services on Saturday and Sunday. Presently only one rake will be running on the said stretch. Services will be extended with the availability of more rakes.
The 6.5 km completely elevated stretch has six stations — Joka, Thakurpukur, Sakher Bazar, Behala Chowrasta, Behala Bazar and Taratala. This stretch is a part of the Joka —BBD BAG Metro corridor. Work for the remaining stretch is going on. The route will be over ground on viaducts till the Maidan, after which it will go under the ground up to Esplanade Metro station.
On completion, Kolkata Metro Railway Line 3, also called the Purple Line, is estimated to span 15.246 kilometres from Joka in the south, to Esplanade in the north, with an extension of 3.39 kilometres to Diamond Park from Joka. It will connect Kolkata Metro Line 1 at Park Street in central Kolkata and run in parallel up to Esplanade in central Kolkata where it will connect Kolkata Metro Line 2.
Total stations on the completed route will comprise Diamond Park – IIM – Joka – Thakurpukur – Sakherbazar – Behala Chowrasta – Behala Bazar – Taratala – Majerhat – Mominpur – Kidderpore – Victoria – Park Street – Esplanade.
Gems City is near the Joka Metro station. 50 acres of apartments, bungalows and towers surrounded by open spaces comprising landscaped gardens, sports arenas, walking, cycling and jogging trails… Now that the Joka-Taratola stretch is running we expect the remaining stretches to be commissioned soon.
Grab the opportunity to move into Gems City; before you miss the train!
You Might Like...
21 March, 2023

When it comes to buying your first home, you can never be too well prepared.more

24 February, 2023

Recovery of construction activity post Covid 19 is ensuring that the real...more