Blogs
All about beautiful living
Early buyers get the most out of property price appreciation
18 April, 2023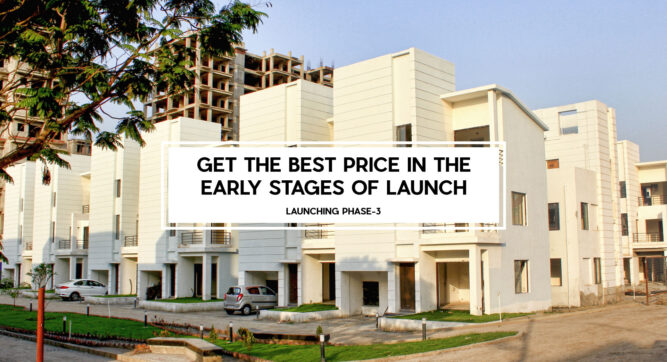 Most developments like Gems City Joka start marketing at a stage when the property is starting to be built or at a fairly new-born stage. We found that buyers looking for a new flat are usually faced with a confusing choice. Do they go in for a ready-to-move-in property, and rest assured that what they see is what they are buying? Or should they risk it for one that is yet under construction; believing that what they see on the drawing board (or rendered images and AV walkthroughs) is what will be delivered to them one day?
At Gems City Joka we are in favour of the latter. Purchasing a property at its launch or early phase is the best instance to choose the floor and the flat with your preferred view, ventilation and Vaastu. With interiors still on the drawing board, you can even suggest to us your ideas about doors, windows and fittings that you may like in your flat. Such customisation is only possible when you have booked into a project such as Gems City Joka, which is large enough to have phases in various stages of launch and post launch.
More importantly, the major advantages of buying property with us at launch stages are because the financial gains are attractive. Here's how:
Developments like Gems City Joka offer significantly lower prices at the launch stage. If you book at this stage you stand to make a bargain; saving considerable amount of money upfront. This saved amount can be used later when you are spending on doing up your interiors.
Once a property gains fame and reputation among prospective buyers OR once the registration certification is obtained, its price escalates as a matter of course. Simultaneous infrastructure additions in the neighbourhood can also result in a hike in the price of a completed property. Such additions as in the case of Gems City Joka, like a new Metro Line or retail mall or entertainment centre or schools and colleges or medical facilities can push prices upwards. It is for this reason that property values in Joka are estimated to show 100-125% appreciation by 2030 by which time the Joka-Esplanade Metro Purple Line will be complete. For guaranteed gains, book your Gems City home NOW.
Property prices are subject to an upward revision when there is a rise in the price of input materials like cement, steel bars, paint etc. due to unforeseen crises like, for instance, the COVID 19 pandemic and, more recently, global supply chain disruptions arising out of the Ukraine-Russia war. By booking and securing your property as early as possible, you can protect yourself from these price inflations.
Going by our past records, those who booked flats or bungalows in the first phase of Gems City Joka have already seen remarkable appreciation. So if you are planning to re-sell at a future date you can be assured of a better price differential if you invest in those phases which are in launch or early stages NOW at Gems City Joka.
Buyers of property in its launch phase are usually required to pay only 20-25% of the property value at the time of booking. Since many developers now offer the option of 'no EMI till possession', they end up paying the interest on loan till the keys are handed over to you, the buyer. So, while you can avail of tax benefits when you take a home loan, this too can come as a massive financial relief – enabling you to get yourself organised to pay back in a structured manner in the months and years to come. Fortunately for you Gems City Joka is approved as a project by a number of leading banks.
Pay us a visit tomorrow and we will help you choose a property to the best of your advantage.
You Might Like...
20 September, 2023

Are you dreaming of a life filled with modern amenities, surrounded...more

30 August, 2023

Kolkata, the City of Joy, is known for its rich cultural heritagemore