Blogs
All about beautiful living
Be an early bird at Gems City near Joka metro, South Kolkata
22 December, 2022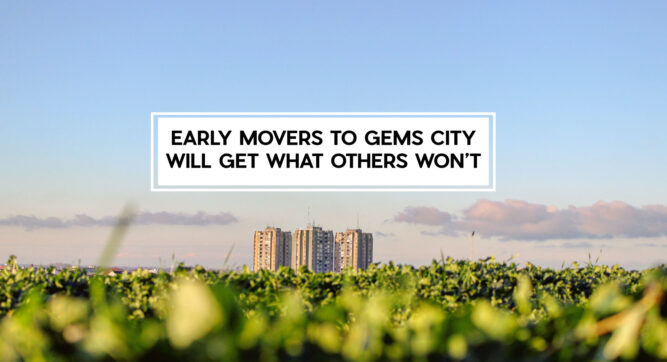 Be an early bird at Gems City, make the most of Joka's openness.
In marketing parlance there is a first-mover advantage. Simply put, it means that there are rewards to be had by being the first to move into a marketing space.
Is there a first-mover advantage in the real estate space for buyers of property? More than one. If you take Gems City in Joka, South Kolkata, as an example: they are related to the property's prime location, being a landmark project, having a price benefit and offering a unique living experience – benefits a potential buyer will get by moving into a pristine area like Gems City in Joka, as soon as possible. Let's take them one by one.
Location advantage
Gone are the days when Joka used to be on the hard-to-reach outskirts of the city, where only the premier Indian Institute of Management (IIT-Joka) existed. Today, with the commencement of first phase operations – from Joka to Taratala – of the Kolkata Metro Railway Line 3 also called the Purple Line, Joka will be only 20 minutes from Park Street and Esplanade in central Kolkata!
Now, who doesn't want to reside in a place where the air is still fresh and the greenery still around, yet easily accessed from or to the hub of the city?
Landmark project
Joka is where the city's real estate developers seek to construct thousands of apartments, along Bakrahat Road; making it South Kolkata's most happening area of real estate growth – driven by residential projects, civic amenities and commerce. Among all of these, what makes Gems City a landmark project is that it is one of the first, most comprehensive integrated residential projects of its size, in Joka. In the days to come Gems City promises to become the GPS tag or direction finder for people coming to visit the area from other parts of the city – a location landmark, or a defining space.
Now, who doesn't want to stay in a property that defines the locality, one may ask?
Price benefit
Joka is one of the newest pin-codes in Kolkata. As a result, the full value of land and building has not yet translated into current property prices. At Gems City, this first-mover advantage has been passed on to buyers. How else can you get such well-finished 3 & 4BHK apartments and well-appointed bungalows at such competitive rates? It is only a matter of time before it too reflects the market value of the rest of upscale South Kolkata. First-movers who booked as recently as a couple of years ago are already seeing the value of their investment appreciate in leaps and bounds every successive year.
Now, didn't someone wise say that it's the early bird who gets the best worm?
Beautiful living
The area south of Joka Metro is as yet remarkably pristine – defined by farms and grassland. The air is so clean and night skies so clear. The eyes almost feel soothed without the assault from exhaust fumes. Seize the opportunity… Frenetic building activity promises to change the skyline in any given direction in the next two or three decades. Make your move now for the sake of your children! Give them the chance to grow up in Gems City, within surroundings that have 65% greenery, well-appointed open spaces and playing areas, a water body and sitting areas. A distinct value-add over existing nature.
What can define beautiful living more than the pleasure of living closer to nature? Visit the Gems City site office; let the sprawling layout capture your imagination as you take a ride around on the go-kart and, of course, view the horizon as it is from the terraces of Gems Akademia International School. You need to seize the moment NOW because nothing stays the same forever.
Now, who would want their children to miss a never-before 'growing-up' experience because they were late to decide!
You Might Like...
21 March, 2023

When it comes to buying your first home, you can never be too well prepared.more

24 February, 2023

Recovery of construction activity post Covid 19 is ensuring that the real...more