Blogs
All about beautiful living
Make your home Navratri-ready with these simple decoration ideas | Gems City
26 September, 2021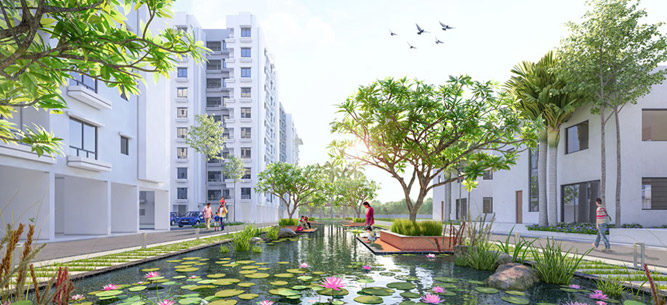 Navratri is one of the most popularly celebrated festivals in India. Hence, giving your home the makeover it deserves during the nine auspicious nights brings prosperity home.
If you are confused with Navratri decorations ideas for home, you have just come to the right place. Home decorations can be really exhausting and annoying at the same time. For this reason, we have come up with some elegant yet easy Navratri home decoration ideas for you.
ASpruce up your entrance
Make a grand entrance for Navratri decoration. Deck up the arch between the kitchen and the hallway using clay or porcelain hand-printed bells. They must be of different sized and different colour paints giving a variety of dangling look at the entrance. Right up the living room using fairy lights, diyas and other small illuminations across the sides of the staircase. Also, hang lights from the ceiling to add to the elegance.
Navratri makeover for your living room
Even simple decorations at home can enhance the essence of Navratri around. The living room can be adorn using rich colour curtains with a traditional print that can add both a pop of colour with an elegant look. Placing beautiful wall art on the wall along with paintings containing mythological characters further boosts the traditional aura. Place diyas neatly arranged at a certain corner that reflects light into the entire living room.
Set up an elegant mandap
Mandap decoration in Navratri is a must affair. Decorate your home mandap with beautiful flower garlands of pink, yellow and orange. One can either use a traditional rug or make a rangoli in front of the Goddess idol and further decorate it with a copper bowl of flowers in the middle. Adorn with flowers
Art of crochet on the wall
A simple yet exquisite Navratri home decoration is the usage of the art of crochet. Crochet wall hangings popularly known as Toran are excellent to hang on plain accent walls as they give a tint of creative touch. The living room with hanging Torans off a particular wall with contrasting colour designs like white, red and blue will not only make it look great but also keep the décor sophisticated and simple.
Add colour to your decoration
Make simple living decorative in the Navratri season by giving a colourful statement to your home. Beautify your rooms with pretty rich cushions with silk coverings in shades of blue, red, orange, green and yellow. Transform the plain boring walls with intricate paintings that convey a story. Put up paintings of different sizes and arrange them accordingly so as to go with your home environment. Spread a beautiful carpet on the floor and bring nice armchairs at one corner to give a bold vibe into the living room that matches perfectly with the festive season.
The Navratri Rangoli
Making a Rangoli is a must for Navratri. A Rangoli with an elaborate design and with multiple colours provides a warm welcome for visitors. It not only adorns your doorstep but also brings in positive vibes through the hearts of the visitors coming inside. There are several simple and intricate designs that can be done by beginners as well as experienced ones. Sometimes Rangoli set up with diyas makes it look more beautiful and elegant.
Get your family a new home at the auspicious occasion of Navratri this year. Gems city has more than what you desire within your community. Besides, it offers the most affordable range of apartments in South Kolkata.
You Might Like...
22 September, 2021

Having spent most of the time indoors, we need to set our priorities to the...more

28 August, 2021

If you already have a home in a metropolitan city like Kolkata, you must be...more