Blogs
All about beautiful living
Send your child to a school next to your new home
28 December, 2019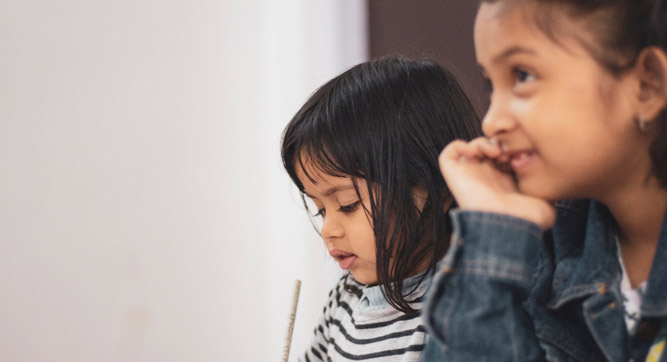 A home does not become complete just by the amenities inside but also by its connectivity to the world outside. Hence, it is very important to take the surrounding of your new home into consideration. People, who seek to buy a flat in South Kolkata, now have the leverage to live near many schools, nurseries and colleges; which is a great advantage.
While planning to buy an apartment, the first thing that people desire is to live as close as possible to the school/college their child study in. This makes them save time and energy while building their career. For this reason, Gems City is strategically located in Joka that connects it to the most remarkable educational institutes of South Kolkata. Let us have a deeper look at these prestigious institutions around the community.
Schools
Gems City does not only have a great school in campus – the GEMS Akademia International School – but has some of the most reputed schools nearby.
– Delhi Public School, Joka

It is a non-profit and non-proprietary English medium school in Joka, known for its educational leadership. Diversity and distinction are the two hallmarks of the school.

Website: http://www.dpsjoka.com/
– Kendriya Vidyalaya

We all know it is one of the most reputed CBSE schools in our country. But this one is even more superior as it is located within the great campus of IIM Calcutta.

Website: https://www.eduvidya.com/
– El-Bethel School

Another most reputed school in Thakurpukur is just around the corner. Affiliated to CISCE board, his school is known for its ability to educate children by making them discovering their own opportunities in the practical work.

Website: http://www.elbethel.org.in/school/
– Vivekananda Mission School

VMS is a renowned CISCE affiliated school in South Kolkata which is just a mere 12-15 –minute drive from Gems City. It was established in the year 1978 by Mr. C.G. Chandra.

Website: http://vms.edu.in/
– Rasapunja Park High School

Yet another popular CBSE school known for its lush green large playground and quality education for its students. Situated in Thakurpukur, it is just a mere 1.3 Km away from the affordable housing.
Other than the above schools, Gems City has its own in-campus school – the Gems Akademia International School, Kolkata. This makes Gems City one and only of its kind as only here you get to live next to a great school.
Colleges
Not just schools, Gems City has some of the most prestigious colleges / B-schools in the country, within its reach.
– Indian Institute of Management, Kolkata

Not just in Kolkata, Gems City has the top-notch B-school of the country just a few Kilometres away. If you have your child studying here, you must take a shot at buying an apartment in Gems City for your child's convenience.

Website: https://www.iimcal.ac.in/
– Praxis Business School

Just a mere 650 meter away, the presence of the Praxis Business School makes residential project even more valuable. It offers outstanding post-graduation programmes along with excellent placement opportunities.

Website: https://praxis.ac.in/
– Pailan College of Management & Technology

Offering a wide range of Masters and Graduation programmes, the Pailan College of Management attracts a number of tech-giant companies every year for recruitment.

Website: http://www.pcmt-india.net/
– CMRI Nursing School

Just 2.5 Km away from Gems City, the Calcutta Medical Research Institute Nursing School stands tall with its prestigious background of training in the field of nursing. To be precise, it is situated in Thakurpukur, near the Army camp in Raipur Road Rasapunja,

Website: http://cmri.in/cmri-school-nursing/
– Dream Institute of Technology

Located in Thakurpukur, the Dream Institute of Technology is yet another putative Institute of South Kolkata. This college is affiliated to WBUT and is known for its way of imparting knowledge to its pupils. Have a look at their UG and PG courses offered by clinking here.

Website: https://dreaminstituteonline.com/
All of the above colleges have top-notch hostel facility along with their premier infrastructure and faculty.
Hence, the Gems Groups' upcoming residential project in Joka – Gems City makes residential living more convenient and beautiful. Not only its wondrous 135-acre-structure and essential amenities speak for its brilliance, but also its prime location surrounded by the excellent schools and colleges in South Kolkata makes it extremely desirable.
You Might Like...
20 September, 2023

Are you dreaming of a life filled with modern amenities, surrounded...more

30 August, 2023

Kolkata, the City of Joy, is known for its rich cultural heritagemore