Blogs
All about beautiful living
Why You Should Invest in Your Own Bungalow in Kolkata?
19 April, 2020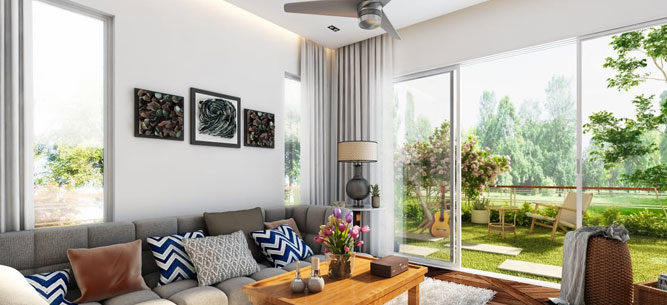 Bungalow; the very word gives you a sense of sprawling space. As a home buyer, you must have faced the debate whether or not you should invest in an apartment or a bungalow in Kolkata. Of course the space and access benefits are huge reasons why many want to invest in a bungalow. We give 5 more reasons to have your own bungalow in Joka.
More space and more privacy
This should be a good enough reason for anyone willing to invest in a bungalow in Kolkata. Space is indeed a luxury and more so in a congested city like Kolkata. To own a space which you can call exclusively as your own is like a perfect dream. You also have the luxury of owning your green with the house. And when you compare the bungalow price in Gems City with others, you know you have a steal.
Design your space as you wish
This is one dream which is hardly fulfilled with an apartment which comes with fixed design specifics. When your own a house, you would love to have your inputs, something that is out-of-the-box. With a bungalow, you have the liberty to design your space as you want. You can be as creative and imaginative as possible with your bungalow.
You have the scope to modify and extend your open space as you will have lot in your disposal with a bungalow. The backyard can be beautifully converted into an open kitchen with a kitchen garden by the side. With a bungalow you have the liberty to convert the space as you wish and want.
Think of it as an investment
If you are ready to invest in a property, do a long-term planning. A bungalow is a better investment in many ways than an apartment. It has been observed that a bungalow has better appreciation rates than an apartment which might get depreciated with years.
It's wise to think and secure the future of your children. With a number of high rises at your disposal, there are chances of stagnation soon. A bungalow may be the best alternative for your little ones when they grow up. It not only ensures quality of life, but gives you a great sense of security as well.
Better quality of life
Although this may seem a little far-fetched, a bungalow truly gives you the unique opportunity to experience life in a different way. Our 2BHK bungalows in Kolkata will allow you to elevate your quality of life. The sense of openness gives you an instant connection with nature which is hard to achieve in an apartment.
Good infrastructure in bungalows
The Gems City Joka bungalows boast of one of the best infrastructures in the city. You will find everything you need close by. Our bungalow project is well-connected with the rest of the city. There are convenience stores for your daily needs. There are a number of educational institutes of good repute near to this project.
If you are looking for Joka bungalow for sale or want to be the proud owner of a bungalow in Kolkata, you can contact us now!
You Might Like...
20 September, 2023

Are you dreaming of a life filled with modern amenities, surrounded...more

30 August, 2023

Kolkata, the City of Joy, is known for its rich cultural heritagemore