Blogs
All about beautiful living
Trends in Community Living in India
18 July, 2020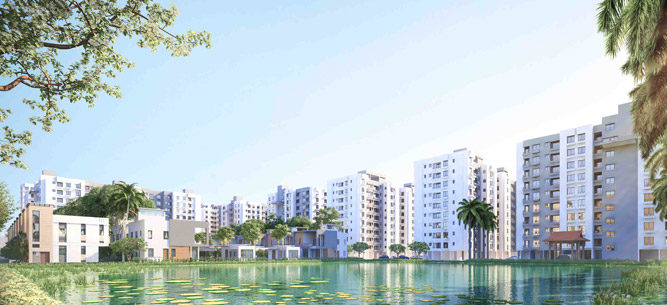 Living in independent houses is losing its flavor slowly in India, as community living is taking over. Indians prefer to live with friendly and helpful neighbours around to have some good company always by the corner.
Community living or co-living itself is a popular trend in Kolkata and other Indian metropolitan cities. Especially with professionals relocating from one city to another, community living is the best option. Even elderly people and young members in a family prefer a community living over living independently. Here are some dynamic and desirable reasons as to why community living is trending in India:
Better standards of neighbour interaction
People living in independent houses or standalone apartments do not have any control over their surroundings. In such cases, there are high chances of mental adjustment issues with surrounding neighbors which results in disparity in interaction with them. However, in a community knit place like Gems City, syncing with the neighbors becomes easier as the residents enjoy similar standards of living. Residents can avail the amenities in such a manner that in turn boosts the neighborhood interaction among them. As a result, community living helps to enhance communication opportunities and neighborhood relations.
Better bonding among family members
Community living not just enhances better neighborhood interactions but also strengthens the relationship quality within a particular house. The apartments inside Gems City are seamlessly large with airy kitchens, spacious balconies, and comfortable living rooms. This makes large families stay together by providing each member with their separate comfortable space in it. For instance, children and youngsters can avail of various indoor and outdoor gaming facilities within the campus itself. Above all, the community itself takes out the monotony of staying within the confines of the house yet living together.
Multi-generation living facilities
Today, almost everywhere large families have transformed into nuclear ones owing to their personal interests, family issues and need for privacy. The residential project of Gems City is a life-changing in such cases. There are provisions of 1, 2 and 3 BHK apartments and spacious bungalows that offer its residents with a variety of choices to live with members belonging from different generations. There are separate entrances and demarcated apartments to safeguard people's privacy. People belonging from several age groups, starting from toddlers to aged ones enjoy the beauty of urban living according to their requirements.
Unparalleled safety
Independent houses lack security measures as there are no proper records of any incoming or outgoing movement of visitors. On the contrary, in a community campus, the security measures are top-notch as it ensures 24X7 strict check on any movement made within the premises. Parents no longer have to restrict their kids to play outdoors which in turn develops their mind, body and soul. Moreover, residents lead an undisturbed lifestyle as no stranger can bypass the 24X7 security team within the premises. The trained security guards are just a call away from the residents of Gems City.
More facilities with less maintenance
It is a myth that with more amenities and better living standards comes more maintenance charges. However, the truth is somewhat different. With more number of families residing together in a community, helps to curb down the maintenance charges per family. Furthermore, the maintenance department of the community offers the facility of the on-call electrician, plumber, carpenter and even doctors exclusively for the residents. This, in turn, makes living hassle-free for the community residents.
Gems city offers the best experience of affordable community living in Kolkata. Along with a better standard of living, the safety and security of the residents are maintained with top priority. The housing project of Gems City is designed and facilitated in such a manner that the residents are devoid of daily life challenges. Hence, life is serene and secured in the 50-acre beautiful community of Gems City. 
You Might Like...
20 September, 2023

Are you dreaming of a life filled with modern amenities, surrounded...more

30 August, 2023

Kolkata, the City of Joy, is known for its rich cultural heritagemore