Blogs
All about beautiful living
A to T of Realty – common words associated with home buying (part 1)
18 May, 2023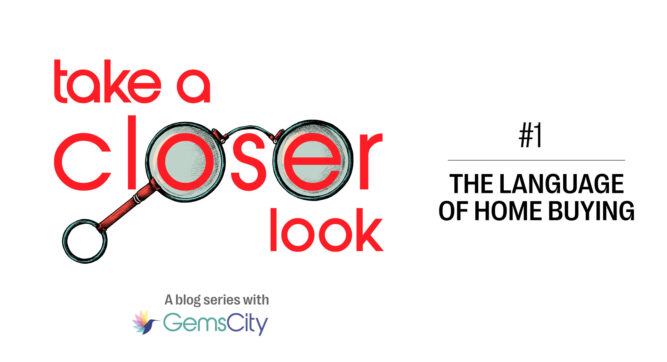 Welcome to 'Take a closer look' with Gems City – in this series of blogs we go deep into real estate concepts and current affairs.
We start off 'Take a closer look' with a short dictionary on real estate terminology. Do you remember your first google search on real estate? Or the first time you spoke to a real estate agent? Did you feel a little mystified by all the new terms you're hearing during the home buying process? This blog helps you understand them so you know exactly what to look for.
Let's start with the land
Real Estate is land and things permanently attached to it, such as buildings, houses, water bodies, fences and trees.
Real Estate Broker or Realtor is a professional or corporate licensed to negotiate the purchase and sale of the real estate for a commission or fee.
FAR or Floor Area Ratio is the ratio of the building floor covered area or built-up area (sum of all floors) to the plot area. It is also referred to as FSI or Floor Space Index.
Registered Land is land (including buildings on it) the title to which is registered at the State land registrar's office and legal ownership of which is guaranteed.
Katha, also known as kattha or cottah, is a unit of land measurement used in northern and eastern India. In every State, the size of a katha is different. In West Bengal it is 720 sq. ft.
Acre is a British unit of land measurement. One acre is 60.51 katha.
Construction related terms
Carpet Area is the net usable area. It is the distance between the inner walls. Common areas, such as the lift, lobby, etc., are not included under the carpet area.
Built-up Area is the carpet area plus the wall thickness and other unusable areas within the apartment, such as the dry balcony, terrace, flower beds, etc. It is always more than the carpet area.
Super Built-up Area of a premise is the saleable area, which includes the carpet area, along with the terrace, balconies, and areas occupied by walls and common/shared construction e.g. lift, stairs, amenities like a pool, clubhouse and garden.
Common Area comprises the spaces, such as driveways, parking, and elevators, outside hallways, recreation and landscaped areas that are not individually owned by the residents, but managed by the homeowners' associations.
PLC or Preferential Location Charge is an additional cost that a buyer must pay in order to get a unit that has a location advantage over the others e.g. pool or park views, as well as road or corner views.
Possession related terms
Possession Letter or possession certificate is issued by the property developer to the buyer mentioning the possession date once the developer acquires the official completion certificate (CC) from the designated authority. It acts as proof of the successful transfer of property and is required for availing of a home loan.
Occupancy Certificate is issued when a property is ready to be occupied. It indicates that the building has civic facilities like sanitation, water and electricity. A prospective buyer of an upcoming apartment must demand this from the builder.
Completion is the finalising of the sale when all dues are settled and the buyer now has legal rights to the new property.
EC or Encumbrance Certificate is evidence of free title/possession of a property. It is needed while purchasing or selling a property or when applying for a home loan or loan against property to confirm that the particular property is free of any economic or legal liabilities.
Loan related terms
Appraisal is determining the value of the home you plan to buy. Banks or other lenders require the appraisal for lending.
Mortgage or loan is to buy a house. Fixed Rate Mortgage is a loan that has an interest rate that remains constant throughout the life of the loan, usually 15 or 30 years.
Prepayment Penalty is a fee imposed on a borrower who pays off a loan before its due date. Lenders impose this kind of fee to encourage borrowers to hold a debt — and keep paying interest on it for the whole term of the loan.
Co-borrower is a person who applies for and shares liability of a loan with another borrower. Both borrowers are responsible for repayment. They also share title in the home asset that the loan is for.
Credit history is a record of your ability to pay back your debts, whether it is credit card bills, student loans or a mortgage. Having this history shows lenders that you would be able to make your mortgage payments on time.
Credit repository is a credit bureau that collects financial information about you and creates credit reports based on that information. Lenders use the reports along with other details to determine your creditworthiness.
CIBIL or Credit Information Bureau (India) Limited is the most popular of the four credit information companies licensed by Reserve Bank of India. CIBIL Score is a 3 digit numeric summary of your credit history. The closer your score is to 900, the higher are the chances of your loan application getting approved.
[To be continued in the next blog]
You Might Like...
20 September, 2023

Are you dreaming of a life filled with modern amenities, surrounded...more

30 August, 2023

Kolkata, the City of Joy, is known for its rich cultural heritagemore