Blogs
All about beautiful living
Appreciating the value of Gems City
24 February, 2023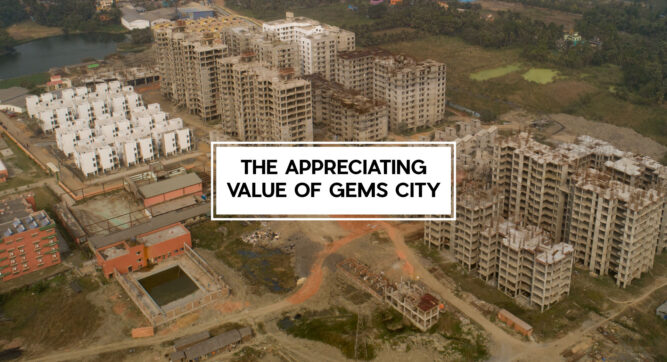 Recovery of construction activity post Covid 19 is ensuring that the real estate market in Kolkata is seeing a lot of growth and development in the last couple of years and is expected to continue on this trajectory in 2023. The West Bengal government's incentive of Stamp Duty Rebate of 2%, and 10% reduction in Circle rates acted as a catalyst; prompting buyers to go for purchase sooner than later. The recent extension of this reduction to 31st March 2023 will continue to provide a fillip to both buyers and developers.
Which brings us to the question of, what impacts market valuation of properties? The answer is a number of factors taken together.
The demand for quality branded homes has increased manifold in Joka – one of the new hotspot locations emerging in Kolkata – driven by good infrastructure development and connectivity because of the Metro line. Bookings indicate how consumers are increasingly expressing their desire for a large gated community like Gems City where beautiful living meets affordability.
Gems City's access is a big plus
Inspite of being a 'greener' pollution-free part of the city, Joka, can be reached from most parts of south Kolkata quite comfortably with improved connectivity. Through Diamond Harbour Road, the area provides quick access to other central Kolkata locations like Esplanade, Howrah and Sealdah.
The Joka-Esplanade Metro line is already running between Joka and Taratala. Majerhat station will open before the Pujas in 2023, while the rest (all the way to Esplanade) is expected on schedule. It will exponentially enhance Gems City's (close to Joka Metro) appeal and drive up value in the years to come. Purchasers of Gems City apartments and bungalows have various affordable residential options, making it the best real estate investment in Kolkata.
The value of comfort
The valuation of properties with better infrastructural capabilities and modern amenities are superior to those which fail to do so. Once you begin to live in Gems City, you will discover the pleasure of being a member of a 40,000 sq. ft. premium lifestyle club. Live amidst 50 acres of apartments, bungalows and towers surrounding by open spaces comprising landscaped gardens, sports arenas, walking, cycling and jogging trails; with all convenience stores and fresh fruit & vegetable stalls inside. Infrastructure such as community centre, children parks, swimming pool, gymnasium, parking lots and convenience stores within the campus go a long way in adding value to property. Valuation of property is clearly based on the availability of necessities and facilities connected with comfortable living.
Neighbourhood adds value
Specific development in and around Gems City is one of the most important factors to influence its real estate prices. There are a number of well-known schools and colleges like Vivekananda Mission School, Gems Akademia International School (within Gems City campus) and Indian Institute of Management, to name a few. Hospitals and clinics abound. Among restaurants and cafes, there are more than 200 options to choose from including some famous chains.
Proposed new malls, like Acropolis South or Deluxe, in Behala–Joka, promise to bring in more retail majors into the neighbourhood. A local market like Rasapunja Bazar and a leading omni-channel lifestyle retail chain like Reliance Trends exist side by side! Banks and ATMs of majors like SBI, HDFC, Axis Bank, Bank of Baroda, Union Bank are present… Indeed, Gems City is well connected to banking, entertainment hubs, medical facilities, educational institutions, retail markets and business centres, along with day to day commodities.
All these help in cutting down time and energy wasted in commuting and increase real estate value.
The foundations of value
Last but not the least, the valuation of any property is dependent on the specifications of materials used, layout, design, durability and life cycle of the buildings. With Gems Group's commitment to quality and reputation one can have no doubt about the value appreciation of Gems City apartments and bungalows. The quality and cost of materials during construction, size, current rates of labour, frontage and other physical attributes such as type of foundation, waterproofing and plinth level, have been meticulously looked into.
You Might Like...
27 May, 2023

"You can certainly buy a house without a real estate agent,more

18 May, 2023

Welcome to 'Take a closer look' with Gems City – in this series of blogs...more