Blogs
All about beautiful living
The Fundamentals of NRI Home Loan | Gems City
24 August, 2021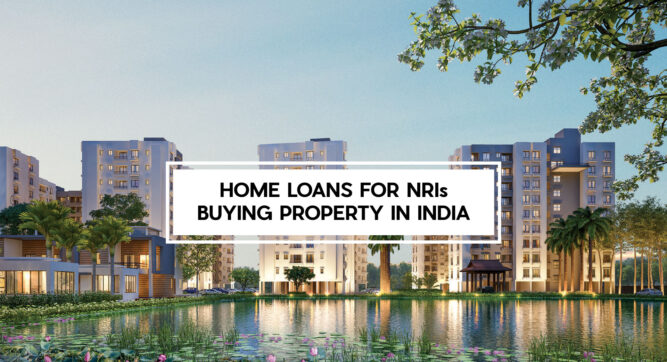 The Indian real estate market has been a great attraction for NRIs all across the globe. Besides, they love to return to the land where their grandparents and maybe even their parents lived together.
The demand for a home in India has increased among the NRIs in the last few years. Some of the government initiatives have only accelerated this demand. However, they face a lot of challenges as they are not fully aware of the rules and regulations of buying a home in India being an NRI.
If you being or anyone among your acquaintances want to book a home in India being an NRI, you have just landed in the right place. We are here to guide you through some of the imperatives for applying for a home in India as an NRI.
Necessary documents for NRI home loan
Following are the documents that are essentially required for applying for a home loan in India as a Non-residential Indian.
• Visa and passport
• Address proof of Indian residence
• Work experience certificate, work permit, appointment or deputation letter.
• Address proof of foreign land verified by your employer over email along with the tax return statements.
• Salary certificates and statements of Non-Resident External (NRE) and Non-Resident Ordinary (NRO) accounts supporting these are also required.y
• Another crucial document is your qualification certificate. Also, the General Power of Authority (GPA) in the bank's format should be duly notarised.
• Copy of employment contract
• Passport size photographs
• Latest salary slips
• Details of any previous loan if applicable
NRI home loan eligibility criteria
• Having a co-applicant and GPA is mandatory while applying for a home loan in India from overseas. The co-owner or GPA must be an Indian resident and must act as the guarantor of the loan.
• You must have at least one year of work experience abroad if salaried. However, if you are self-employed, you must possess at least 2 years of work experience.
• If you wish to own a property in India being an NRI, you must be at least 21 years and the maximum age limit is 60 years.
• It is important to check the salary norms of the NRI before applying for a home loan in a bank, NBFC or any finance company. Most reputed banks require at least $24,000 yearly income for NRIs residing in the United States.
Steps to apply for an NRI home loan
• In order to choose the best home loan deals especially for NRIs, one should check with a list of reliable home loan lenders.
• While choosing a lender, keep in your mind the eligibility criteria and your needs. Never forget to submit the necessary documents along with the application form.
• Communicate with your lender in requirement of any clarifications
• After choosing a co-applicant who is an Indian issue a power of attorney in his name.
• Visit the Indian Embassy in your respective country to collect the power of attorney form in the format given as per the lender you chose.
• The final format needs to be signed in favour of the Indian co-applicant mentioned in the application form. After the completion of these processes, the embassy will finalize the deal by putting a seal of approval on it.
Tax benefits on NRI home loans
NRI customers generally does not get any home loan tax benefits unless they fill returns to become eligible for the availability of tax rebates imposed on such loans.
Srijan, Godrej, Siddha and other builders have seized the opportunity to make residential projects in and around Joka Metro owing to the large land space available. Moreover, Gems City offers its residents a dedicated bus for commuting to and from the Joka and Tollygunge metro stations.
Repayment and disbursements
Loan repayment needs to be done in the Indian currency, paid only through NRO or NRE accounts with abroad remittance. For NRIs, the probability of bad loans is not wide as their property is in the native land that can be seized anytime by the bank. However, many NRIs are ignorant of the fact the GPA holder has to be present in person at the time of disbursement of the loan within the bank premises. This is because his signature is required on the documents since the main applicant is physically unavailable in India.
A great choice for the nearby residents in Joka
People residing in Joka who are in search of new homes do not have to face the hassle to move to the areas like Garia and Tollygunge which are not only far away but also amidst the hustle and bustle of the city. Residential projects life Gems City gives them the facility to reside within their familiar locality with modern amenities at an affordable range.
Appraising process
TUsing an official email address the loan appraisal of NRIs is done. Details regarding relevant evaluations of the loan are both discussed and confirmed via email. The abroad applicant employment is double-checked with their company employees. Also, to make the processes hassle-free, one should inform their HR department beforehand for better loan appraisal. This department can also receive a call to verify the purpose of transfer, his designation or employee code etc.
If you have already chosen your home loan lender, you may calculate your home loan EMI here.
Get in touch with the real estate experts of Gems City to have better clarification on having your NRI home loan from a reliable lender without any hassle.
You Might Like...
21 March, 2023

When it comes to buying your first home, you can never be too well prepared.more

24 February, 2023

Recovery of construction activity post Covid 19 is ensuring that the real...more