Blogs
All about beautiful living
Key things to consider before buying an apartment in South Kolkata
26 February, 2022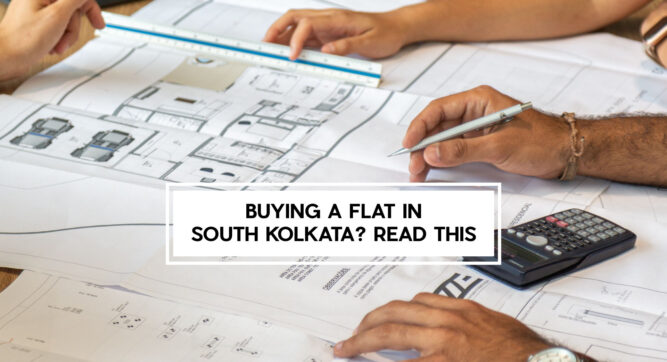 Buying a dream home is probably the most pivotal part of one's life. It is not only about the money that goes into the process but also the vested emotion that follows. Hence, you should have complete clarity about the property you are going to acquire.
As developers, we want home buyers to make the right choice as per their needs; which is why it is important to carefully consider all aspects of their new purchase. So, if you are planning to buy an apartment in South Kolkata, this is going to be a must-read for you. Let us look at the most essential things to consider before diving into the buying process of your new home.
Price of the apartment and additional expenses
The price factor is probably the first thing to consider as it should not be a heavy burden on your shoulders in the long run. You may consult with your financial consultant or an expert in the financial sector who can guide you on your budget to buy an apartment. Apart from just the initial price, there are other recurring expenses to be taken into account, such as monthly maintenance cost per square foot, registration of the property and stamp duty. Once you are clear on the expenses that you can easily bear, you can finalize a property deal with the developer.
Gems City offers 2BHK apartments starting at just 25 Lac onwards which makes it one of the most affordable gated communities in South Kolkata.
Check the demand for the project
The primary factor that states the demand of the residential project lies in the progress in its development. Always go for a project that is in demand by other home buyers. Such projects have an easier and quicker possession process. Even if you invest while the apartment is being built up, there would be a painless handover process when your apartment is ready to take over.
The demand for the residential project of Gems City Joka lies in its selling record. It has already started the handover process. However, most of its apartments and bungalows are sold out even before it started the handover process.
Quick availability of healthcare facilities
Health emergencies do not need any prior invitation before knocking on your door. Hence, if you have been living a healthy life, you must be ready for an emergency health situation. Your new home must be well connected to hospitals and other medical facilities within a radius of 5-7 Km. This is going to save you from a lot of trauma, time wastage and physical pain during an emergency.
Gems City is situated in such a prime location, that the major healthcare institutions and hospitals are just within the vicinity of the gated community. Here are the most popular hospitals in South Kolkata that are very closely situated to Gems City.
Check for availability of essential amenities
Life gets easier to live when you have access to useful amenities within your gated community. It is not just the security factor, but a residential project with enriched amenities is always more favourable than any stand-alone building. Likewise, Gems City brings to you all the luxury amenities like a 40,000 sq ft clubhouse, movie theatre, departmental store, ATMs with banks, yoga centre, guest house, indoor and outdoor gaming facilities, crèche for children, even a CISCE affiliated school. Actually, it has about 50 reasons that make your life beautiful and close to nature. With over 65% greenery, Gems City is the most affordable residential project in South Kolkata that has so many facilities to offer.
Where is it located?
Before buying a home, you just need to check how strategically the residence is located and how well is it is connected to the city. Many residents living by the busy roads of Behala, Thakurpukur and even Tollygunge are fading up of the non-stop noisy environment that they live in. As a result, people are looking for residential properties that are away from the hustle and bustle of the city yet well connected to it.
Located in Joka, Gems City offers the perfect blend of peace living along with the feature of well-connectivity to the city. It has a bus service exclusively for its residents that goes back and forth to the key metro stations in its vicinity – the Joka and Tollygunge metro stations.
You Might Like...
21 March, 2023

When it comes to buying your first home, you can never be too well prepared.more

24 February, 2023

Recovery of construction activity post Covid 19 is ensuring that the real...more