Blogs
All about beautiful living
Reside in a highly secured gated community with all the necessary facilities in the post-covid era.
15 July, 2020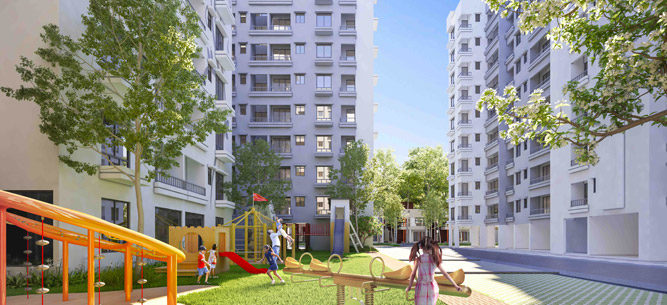 With the pandemic of Covid-19 at large, it is more vital to have our homes guarded and secured. Protecting it from strangers is one thing but it has become more essential to safeguard our homes against the invisible terror; the novel coronavirus. Hence, living in a gated community has become more of a necessity than just a mere requirement.
With the motive of keeping your family protected and secure, Gems City brings to you, the most affordable community living in Kolkata during the new normal era. Here are some basic reasons as to why any family will be intrigued to choose Gems City as their new home:
65% open space – social distancing is easy
Living in a large residential project with large swathes of open space has a special advantage that helps you maintain social distancing. The playground is large, the outdoors and gardens offer enough space to enjoy your own lives while keeping a safe distance.
Affordable urban living
During this pandemic, getting an affordable residence with all the necessary amenities is of utmost priority. Gems City is one such residential project in South Kolkata that offers a range of 1BHK, 2BHK, 3 BHK apartments along with exquisite bungalows.
Living close to nature
65% of the entire project of 50 acres of land is covered with lush greenery. When people across the world have taken health and hygiene as a matter of serious concern for them and their family, Gems City gives them an opportunity to enjoy an outdoor life inside a securely maintained gated community. One can have the privilege of breathing in the fresh air and be closer to nature without any stress of being infected.
24×7 medical assistance
Gems City, that offers low-budget flats in South Kolkata, comes with all mandatory medical facility just around the corner to overcome any emergency situation. Starting from the ambulance facility to 24×7 pharmacy, Gems City has the provision of on-call doctors for its residents. Furthermore, there are some of the renowned  hospitals and healthcare centers of South Kolkata within the proximity of the community.
The convenience of Banking and ATM
During this pandemic, the least wanted thing is to fetch any essential commodity by moving into a risky public zone. However, in Gems City, there is a provision for a bank along with 24×7 ATM within the community. Although people are locked indoors, they constantly need money for the continuity of life. So, having an ATM within the vicinity is like a savior during such difficult times. Even for essential banking transactions, you do not need to step out of your community.
Regular availability of filtered water supply
One of the reasons that make Gems City the most extraordinary residential project is due to the availability of filtered water. Clean drinking water is the key to a healthy life. When the surrounding situations are so stressful and residents are prioritizing more on health measures rather than daily living, filtered water supply acts as an added advantage.
Availability of several convenience stores
Gems City, a housing project in Joka, houses multiple convenient stores for the ease of its residents. They do not require to face the hassle of stepping out from their houses into a risky red zone of the pandemic. Its residents can easily access the departmental store with all essential commodities and daily-use products for a healthy lifestyle. Added to this, there are facilities of on-call electricians, plumbers, carpenters, and many more. These aspects of daily life make living much more easy and comfortable during the pandemic.
Wrapping up
Above all, Gems City is not just any residential project in Kolkata, but a highly secured gated community that offers its residents all aspects of a healthy, hygienic, and comfortable lifestyle. Even during this pandemic, Gems City tries its utmost to maintain normalcy among the lives of its residents. Therefore, opt for a safer life within the affordable 50-acres of beautiful urban living.
You Might Like...
27 May, 2023

"You can certainly buy a house without a real estate agent,more

18 May, 2023

Welcome to 'Take a closer look' with Gems City – in this series of blogs...more