Blogs
All about beautiful living
Housing Market Trends in the First Quarter of 2021
30 January, 2021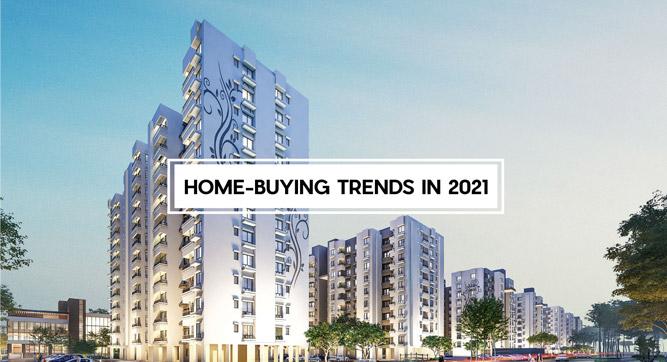 2020 may have been a bad year but the real estate industry comparatively remained relatively afloat. The housing trends since the last 2 quarters of 2020 that continue strongly till the first quarter of 2021 brings joy for everyone.
During the pandemic, people realized how important it is to opt for community living in a gated residential project rather than living in a flat in tenancy. This realization grows even stronger in the first quarter of 2021 as home loan rates hit rock-bottom along with the increasing availability of residential properties. As a result, homebuyers can settle in with some of the best deals like never before.
The real estate experts have high hopes with the first quarter of the year 2021 because of some palpable reasons:
Exiting tenancy
This is clearly, the best time to move out of your rented house and live in your own house. As the banks and housing finances are offering Christmas mantelhome loans as low as 6.75%. Such home loan interest rates are the lowest in 15 years and it is unlikely to decrease any further. Hence, this is a 'now or never chance' for the presently-renting families to live in their dream home. For this reason, the real estate market is about to experience a lot of shifts to ready-to-move houses in the first quarter of the year.
Besides, during the lockdown, people became aware of the fact that how important it is to live in your own home during a pandemic rather than living in tenancy. The new normal has made us adapt to the new working system and a new lifestyle altogether which can be immensely challenging while living as a tenant.
Rising demands for gated communities
The year 2021 as a whole, not only the first quarter, will experience a hike in the demand for gated communities as home buyers are seeking security with ample space to live in. There are innumerable reasons for which gated communities are way better to live in than standalone buildings. Nowadays, residential projects like Gems City are offering a wide range of apartments and bungalows at the same price that of an apartment in a standalone building. For this reason, home buyers are keener towards living in an affordable gated community with all the essential amenities rather than residing in an apartment in a standalone building with a lack of security and other amenities.
It is the best time to upgrade your living standards if you are still staying in a standalone building with compromised space and facilities.
Plan for an extra income
Various home buyers are entering the real estate market at the moment in order to gain something big in the long run. As the real estate industry provides the best ROI, people are now renting out their second home to earn a passive income for a lifetime. As the pandemic has proved to be a lot heavy on the people who had any sort of investment with a bank or any other financial institution, they are realizing the essence of investing in the real estate market rather than on any other investment plan. Many people also upgrade their living standards very smartly by renting out their old apartment and living in the new property, where the rent generated from the hold home helps with the burden of the EMI on the new flat. In the first quarter of this year, many people are expected to take the real estate industry as a permanent channel for a passive income.
Requirement for more space
A proper family planning requires more space. Although most of the families are nuclear these days, with time a family of two requires more space to fit in with their children. Families grow and they demand to live in a spacious apartment or a bungalow to be able to live freely. For an instance, a school student becomes a teenager in a jiffy and requires their own room. Even the members of a closely connected family require individual space for privacy and ownership.
As a result, people who are smart enough to see the requirement for living space in the future will take this time as an opportunity to own an apartment or an independent bungalow. The requirement for more space is one of the key housing trends in the first quarter of 2021. Besides, living in a spacious house helps to improve mental health.
You Might Like...
20 September, 2023

Are you dreaming of a life filled with modern amenities, surrounded...more

30 August, 2023

Kolkata, the City of Joy, is known for its rich cultural heritagemore